The Burlington Fitness Court is NOW OPEN!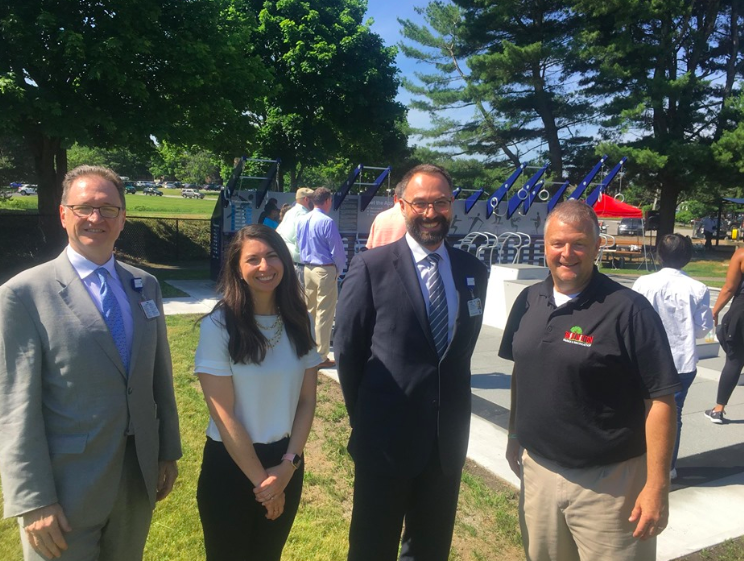 The Town of Burlington, located in the Greater Boston Area, is proud to launch their first free outdoor Fitness Court at TRW Playground. They have partnered with Beth Israel Lahey Health and National Fitness Campaign to make world-class fitness free for everyone!
Burlington's leaders are ready to activate TRW Playground with the digitally connected, best-in-class gym where residents can get a full body workout, solo or in a group! Residents are encouraged to download the Fitness Court mobile app to easily learn all 7 workout stations, engage in challenges and utilize pre-guided workout routines — all for free!
Blazing a trail as leaders in the region, this town isn't cutting corners on building the best outdoor gym out there! Residents can expect a one-of-a-kind, fully customized, navy blue Fitness Court — designed specifically for Beth Israel Lahey Health and the Burlington Recreation Department.
Major thanks are owed to Beth Israel Lahey Health — their generous support made this new Fitness Court a possibility for Burlington. From the earliest days of the project, the hospital was inspired by the town's desire to promote healthy living in a free and engaging way.
Beth Israel Lahey Health plans to spearhead ongoing integration with the Fitness Court mobile app, sponsoring various workout routines that the community can easily follow and share. With a nearby playground, baseball fields and manicured open green space, TRW Playground will be a great hub for family and friends to stay active at no cost!
Local Ambassadors launched the Court at this summer's fun-filled opening day kickoff event. Adults of all ages and abilities joined in the fun and got a quality, hands-on workout — along with free gear and giveaways from local vendors and health care providers!
THANK YOU BURLINGTON FOR PUTTING FREE FITNESS ON THE MAP!